Easily customize WordPress themes, live.
CSS Hero is the definitive WordPress plugin to easily customize every property of your themes with an easy and intuitive point and click interface.
Pricing Plans Give it a spin!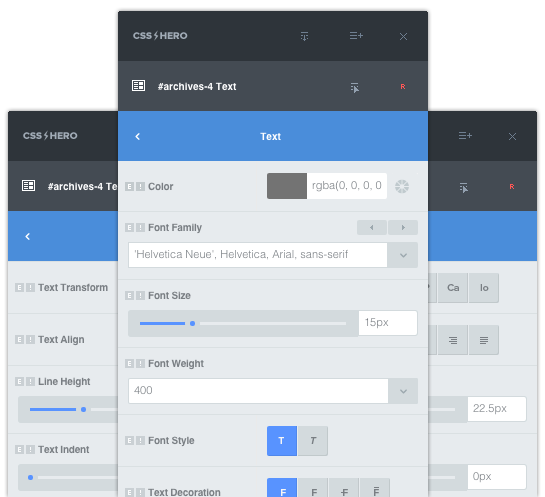 Control everything, everywhere.
CSS Hero allows full control on every element of a number of natively Hero-Ready WordPress Themes
and it works on most WP Themes with Rocket Mode.
Play with a ton of fonts
Add a touch of class with your own fonts, a huge collection of Google Fonts is at your fingertips.
Learn More →

Use your own colors
Use a color picker to experiment live color and background changes like never before.
Learn More →

Control all measures
Edit element sizes, margins, paddings: just drag a slider and view what happens.
Learn More →

Special Effects
Spice up your site elements with Hover Fx, Shadows, Transitions, and more cool stuff.
Learn More →

No Lock-In
Hero will output crystal clear (and minified) CSS ready for you to export it on any other platform\source.
Learn More →

Undo\Redo and History
Keep track of your edits for further testings, save as presets or preview history steps for a\b tests.
View hidden content is available for registered users!
Стоимость - 199$
FREE download for ForumManager