"Keyword Advantage"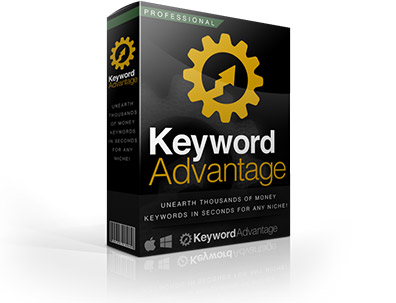 Along with 32,000 other people, I'm using Keyword Advantage to dominate niche markets, break into fierce industries, generate a daily income and grow their businesses like an unstoppable virus…


Name: Robert Hannum
Niche: Juicing, Pilates
Rankings: Multiple Page 1 of Google,Bing and Yahoo
Comments: "Keyword Advantage is simply the best way to find words and phrases that will make money. I use it nearly every. As a result I have several Page #1 Google rankings in highly competitive niches. Quick and easy to use, Keyword Advantage is an indispensable tool in my success."


Name: Ronald Sobota
Niche: Clothing, Cookware
Rankings: Multiple Page 1 rankings on Google
Comments: "I use KA it every time I create a page or post. Right now I have two sites that are ranked #1 and #4 respectively and I feel that the Keyword Tool is one of the major reasons my sites have done so well. Oh, and my sites also receive offers from a number of independent affiliate programs asking me to join their programs as a result of my visibility."


Name: Roger Holden
Niche: Pets, Magic, Dieting
Rankings: Multiple Page 1 of Google
Comments: "I never thought it would be so easy to rank in the top ten of Google Search Engine but it is. By using the Keyword Advantage Tool, I was able to have 3 websites rank in the top ten in less than 3 weeks. I have used a couple other tools that didn't work as well. I will never use any other tool unless it was developed by Adam and his team at NPC. Thanks for helping make my dreams come TRUE Adam!"
Want to join them?
Until now, this tool has been kept under lock and key inside my Niche Profit Classroom community…
… but today, I'm opening the doors so YOU can join us…
… and finally dip your hands into thousands of lucrative, untapped keywords in any niche market.
Here's why this tool works so well…
Keyword Advantage only targets the keywords that have traffic, low competition and real buyer intent…
Every day, I see people making the same keyword research mistakes:

Mistake #1: Targeting keywords with the highest search volume
The problem is that these keywords are often the most competitive. It can take months – even years – to get to page 1 of Google for these keywords… and it takes serious effort to hold your spot if you ever get there.

Mistake #2: Targeting "long tail" keywords
Sure, these keywords might have very low competition, but they don't have any search volume either.
This means you'll need to rank for hundreds – even thousands – of these keywords if you want any real traffic volume.
Do you really want to monitor hundreds of keywords each day?
Keyword Advantage uses a proprietary formula to save you from these mistakes(… and only delivers you the gold!)
Keyword Advantage is different. It uses a proprietary formula for finding low competition, high search volume keywords that bring in buyers.
It automatically searches for keywords that have…
High Keyword Demand (KD): The more searches, the better. The more searches a keyword gets, the more traffic your website will get once you obtain a high ranking for the keyword.
Low Keyword Competition (KC): The lower the competition, the easier it will be to obtain a high ranking for the keyword.
High Keyword Buyer Propensity (KBP): Certain keywords have high "buyer propensity," meaning that someone is typing it in because they are ready to buy something.
And it gets better, because unlike most keyword tools…
Keyword Advantage pulls its data straight
from Google's Keyword Planner!
Google's Keyword Planner is hands-down the best source of keyword data available.
Other keyword tools can't get around Google's restrictions, but Keyword Advantage can, and that means reliable, current and accurate data that you can trust.
Which means…
View hidden content is available for registered users!
Стоимость - 47$
FREE download for ForumManager